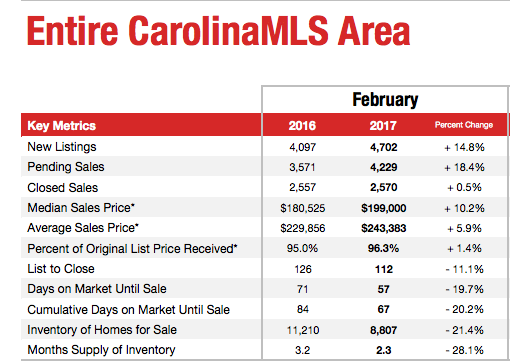 The Charlotte region overall saw home sales and prices rise in February, while the Lake Norman region had a downswing for the month when compared to year-ago figures.
Closed sales for February were down 40% to 75 for the month, a drop of 50 compared with February 2016, according to the monthly report by the Charlotte Regional Realtor Association. Year-to-date closed sales fell 11% to 193 from 217 through February 2016.
Across the CMLS region, a total of 2,570 homes sold in February, which is a 0.5% increase.
The average sales price of a home in the Lake Norman area fell by nearly 6% to $418,588 from $444,942 in February 2016. However, the median sales price of a home in the Lake Norman area was up by 15.8% to $367,000.
The Charlotte area overall was up by the same amount to an average sales price of $243,383, and median sales for the entire region rose 10.2% to $199,000.
The story of low inventory was much of the same in February, as it dropped 21.4% to 8,807 homes on the market across the CMLS region. Inventory in the Lake Norman region fell 6.8% in February to 832 homes listed for sale.
"With prolonged low inventory situations, sales are typically slower, but pending contract activity, which is an indicator of buyer demand and future sales, continues to be strong," said Roger Parham, president of the CRRA. "However, the good news this month is in listing activity, which is up nearly 15% and shows us sellers are gaining confidence."
Despite posting a decrease in inventory in Febuary, the Lake Norman area is faring better than the region overall. The entire CMLS area had only 2.3 months of inventory in February, while the lake area had 4.7 months of inventory, which amounted to 832 homes on them market. Six months represents a balanced market where neither the buyer or seller is at an advantage. Less than 6 months of inventory is considered a seller's market.