In The Point, families have the perfect combination of the city and country lifestyle. The neighborhood is located on the water of Lake Norman with plenty of surrounding nature. However, it is also minutes from I-77 and just north of Charlotte. Therefore, This location provides the scenery and tranquility of a vacation home and the access to entertainment, activities for family and kids, shopping, and dining in surrounding cities and areas.
Within the community, you have a country club feel with many amenities that make The Point the perfect neighborhood for you and your family. There is a Village Square containing most of the amenities. In the Village Square, you can find walking paths, the Pro Shop, locker rooms, The Tavern Restaurant and Lounge, Trump Bakery, a general store, the racquet club, a playground, a pool with a two-story water slide, green recreation area, eight tennis courts, a driving range, and exercise rooms. Overall, the Village Square is the perfect place to hang out with friends or family, and it gives a sense of community in The Point.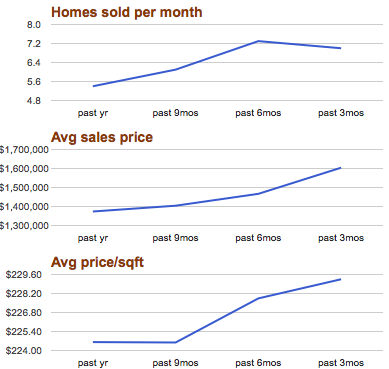 Currently, the neighborhood has 55 houses on the market. With 5.4 houses sold per month, there are 10.2 months of inventory. Now is a great time to buy because it is a buyer's market. This is much higher than the inventory of Mooresville and Iredell County as a whole. Moorseville has 4.6 months of inventory, and Iredell County has 4.7 months. The past year, the average sales price has steadily increased from $1,373,698 to $1,604,269. Also, the average price per square foot has also increased but not as steadily. The price rose from $224.62 to $229.25. Of the listed homes, the highest price is $7,745,000, and the lowest price is $529,000.
Come check out The Point today!