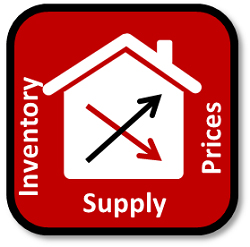 The Charlotte housing market saw much of the same trend in October as previous months – steady price gains amid a continued low housing inventory.
The Lake Norman area's average sales price increased 0.8% to $447,546, while inventory fell more than 10% to only 920 homes for sale in October compared to 1,024 homes for sale in October 2015. Months of inventory in the Lake Norman region fell 17% to 5.4 months, swinging favor slightly toward sellers.
Six months is generally considered a balanced market, where there is neither an advantage to the buyer or the seller. Less than 6 months represents a seller's market.
Across the wider CarolinaMLS region, home sales jumped 3.4% from year-ago figures to 3,418 properties sold. However, overall sales were down 11% compared with September 2016 figures, according to the most recent report from the Charlotte Regional Realtors Association.
Average sales prices jumped 7.6% to $256,736, and median prices were up more than 12% to $209,690.
The inventory level for the CarolinaMLS region has dropped 23.1% to 2.8 months, which amounts to 10,570 homes on the market. October's inventory represents a drop of more than a month's inventory from 13,742 homes on the market a year ago in October.
"The region continues to struggle with persistently low housing supply, which is having a direct effect on prices," said the association President Maren Brisson-Kuester. "Unfortunately, until we're able to see a substantial rise in inventory levels, buyers may be challenged with limited options as we close out the year and move into 2017."
New residential listings increased to 2.7% to 4,150 compared to year-ago numbers.
Mecklenburg County: The average sales price jumped nearly 5% to $273,345 from $260,739. The period from listing to sale close dropped 9.1% to 91 days from 100 days in October 2015.
Housing inventory for the county dropped nearly 25% to 3,315 homes on the market or just 2 months of inventory. In the same year-ago period there were 4,415 homes and a 2.9 months supply.
Lake Norman Towns:
Davidson: Average sales price: +9.9% to $365,950; inventory -8.3% to 154 homes; months of inventory -4.8% to 4 months
Denver: Average sales price: +6.3% to $407,353; inventory +4.3% to 220 homes; months of inventory -9.8% to 4.6 months.
Huntersville: Average sales price: +3.8% to $281,438; inventory +9.5% to 345 homes; months of inventory unchanged at 2.7 months.
Mooresville: Average sales price: +7% to $343,862; inventory -14.3% to 636 homes; months of inventory -22.6% to 4.1 months.