Persistent low inventory did not stop the Charlotte region's sales from ending on an upswing for December and overall 2016.
December sales were up 4.5 percent from year-ago figures, while 2016 had an increase of 8.4 percent for closed sales overall, according to the most recent report from the Charlotte Regional Realtor Association.
The Charlotte region saw its fifth consecutive year of increased median and average sales prices. Median sales rose 10 percent to $209,000, and averages sales prices rose 8.2 percent to $258,108 over year-ago figures.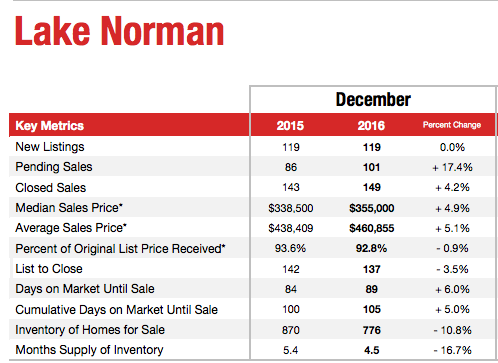 For 2016, average sales prices in the CarolinaMLS region rose to $257,701, a jump of 6.5 percent over 2015's average sales price.
Low inventory continues in the Charlotte region, however, dropping more than 25 percent from last year. Overall, Charlotte inventory was at a low 2.3 months supply of homes on the market, making for a very strong seller's market.
"As we move forward into 2017 buyers may face limited choices, faster days on market and rising mortgage rates. However, positive job growth over the last year and a healthy local economy continue to boost consumer spending and housing demand, which should help sales remain steady throughout 2017," 2017 Carolina MLS President Roger Parham said in a prepared statement.
In Mecklenburg County, median and average sales prices rose 12.3 percent to $219,000 and 8.8 percent to $277,267.
As inventory continued to drop, days on the market and list to close time also dropped. Mecklenburg County inventory fell more than 29 percent to 2,477 homes for sale in December 2016, down from 3,507 homes on the market in December 2015. Months of inventory saw a nearly 35 percent drop to 1.5 months supply, down from 2.3 months.
In the Lake Norman area overall, the median sales price rose almost 5 percent to $355,000 in December 2016. Averages sales were up 5.1 percent to $460,855 for the same period.
Inventory dropped 10.8 percent to 766 homes on the market in December, which represents 4.5 months of inventory. That's down from 5.4 months of inventory in December 2015.